This story recounts the tale of a service dog named Banner, who assists his disabled owner, Whitney Braley, and has an affection for aiding any other animals requiring assistance.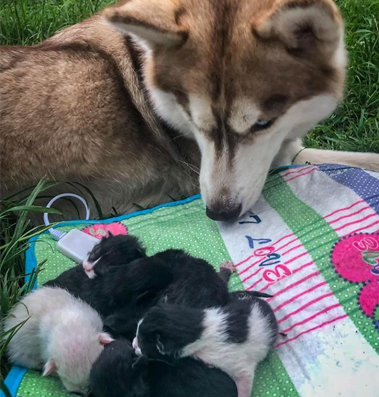 Whitney taught the dog, who is presently 3 years old, various tasks to assist her since he was a puppy, including notifying her during self-harm, collecting medication, providing momentum pull, guiding her, identifying migraines, helping with anxiety attacks, PTSD episodes, and much more. Additionally, Banner has a fondness for felines, as he discovered a kitten two years prior and cared for her by raising her.
Nevertheless, the rescued feline continues to reside with Banner and his owner, who has fostered other kittens throughout the years. Recently, Banner discovered a sealed cardboard box in the woods containing seven newborn kittens, and he promptly alerted Whitney and guided her to the location of the kittens.
After arriving at the container, Banner carefully carried each kitten to safety using his mouth. Once he had safely transported them to Whitney's house, Banner stayed by their side, assuming the role of their protective father figure. Fortunately, all of the kittens were eventually adopted into loving permanent homes, which is wonderful news!